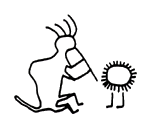 SOUTHWESTERN ART
1800'S TO CONTEMPORARY
IN THE CLASSICAL
TRADITION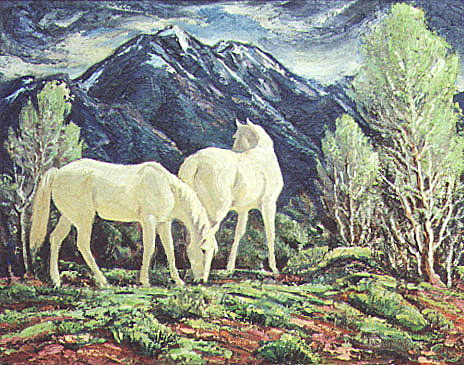 LOCATED IN
THE HISTORIC
HOVEY HOUSE
136 GRANT AVENUE
(ONE BLOCK FROM
THE PLAZA)
SANTA FE,
NEW MEXICO
87501
OFF-STREET PARKING
TO CONTACT:
1-866-240-6458
(toll-free)

Our inspiration is initially that of Taos and the "Taos Masters." The State of New Mexico's designation as "The Land of Enchantment" is well-deserved and we believe that the "enchantment" begins in the three neighboring villages of San Geronimo de Taos (the Indian pueblo), Don Fernando de Taos (the Spanish adobe village centered on the old plaza) and Ranchos de Taos (the Spanish adobe village centered around the Catholic Church).
In 1893 Joseph Henry Sharp visited the Taos valley in order to finish a commission for "Harper's Weekly" magazine. His painting, "The Harvest Dance of the Pueblo Indians of New Mexico" appeared in that magazine's issue of October 14th. The fall of 1895 found Sharp studying art in Paris at the Academie Julien. Two younger American students named Ernest Blumenschein and Bert Phillips were also studying at the Academie and the three became friends. Sharp told Blumenschein and Phillips about his 1893 experience in the Taos valley and the two mentally filed the information away for future reference.
Returning to the States in 1896, Philipps and Blumenschein shared a studio in New York City and in the Spring of 1898 they decided to seek new subjects and inspiration "out West". The story of their trip from Denver has been told and retold and the saga of the "broken wagon-wheel" has become legend. Ariving in Taos in early September, they sold their wagon, horses and harness and settled in to sketch and paint. They were the only artists working in the area. After three months, with winter coming on, Blumenschein was homesick for the "bright lights and big city" and returned to New York. Bert Phillips stayed – and the Taos Art Colony was formed.
Eventually the Taos Art Colony came to be internationally famous and the artists who made up the membership of the "Taos Society of Artists" were recognized as among the very best of American "Regionalists". Their success was the catalyst for the subsequent formation of a second New Mexico art colony, in Santa Fe, in the early 1920s (the "Cinco Pintores", etc.) and for the expanding popularity of New Mexico and Southwestern landscapes and genre works from the teens through the present. Southwestern art and artists have been influenced by all of the modernist movements of the 20th century but have always tended to revert to their "realist" roots in the landscape and peoples (Indian, Hispanic and Anglo) of the southwest itself. Accordingly we can today recognize that the artists of the TSA and all their successors have produced and are producing some of the very finest American art. We are pleased to be able to present some of it to you.